*This post was sponsored by Mixbook, but all opinions are our own.*
It's the most wonderful time of the year!
It is 100% no secret that we love all things holiday related, and Christmas is by far both of our favorites. Jenna may or may not cry every year the first time she hears Christmas music. ;)
The decorations, the holiday parties, the cheesy Hallmark movies, the delish food--all things we enjoy. And each year of our friendship thus far, we've had a Christmasey girls night where we drink wine, watch a favorite holiday classic, and eat lots of cookies. And this year, we decided it would be fun to send out cards too. The perfect addition to our tradition. :)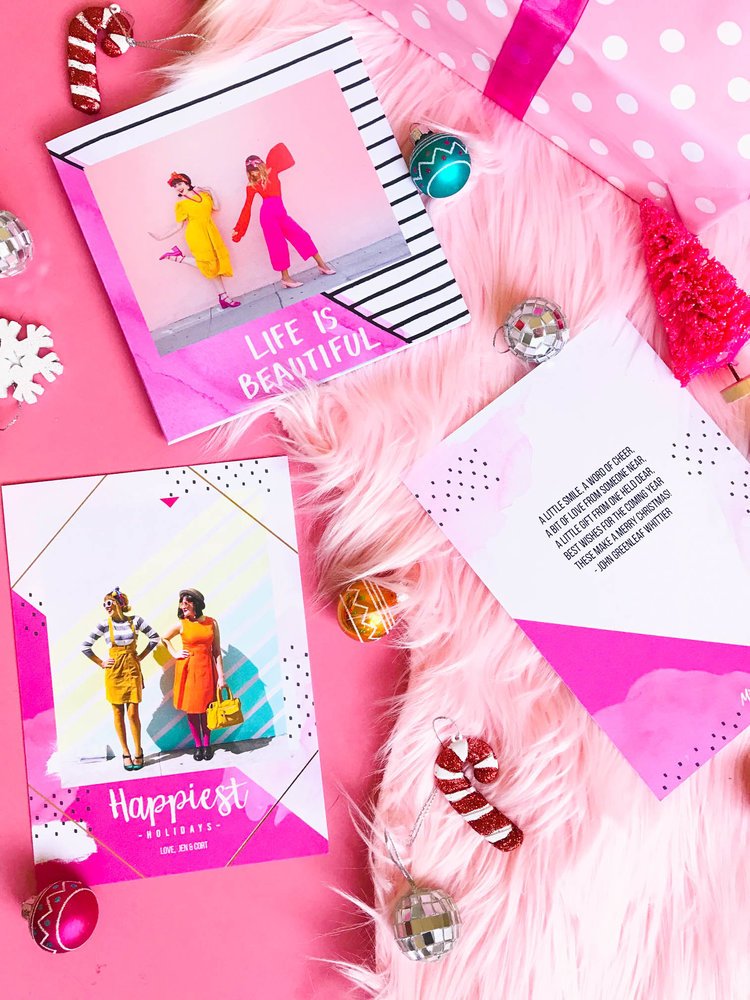 So, we were thrilled to team up with Mixbook to create a cute holiday card to send out to all of our friends and family (their new foil cards are the BOMB, y'all). You can see the front and back of ours in the photo above! Perfectly pink, to match our personalities, obviously!
To get this design, click here!
While we were creating our holiday cards, because we're us and always extra, we decided to make a kind of "2017 Year in Review" book too using Mixbook's new 6x6 layflat book design.
It was so much fun (and also hilarious, cause y'all, we can take some pretty bad photos) to scroll back through all the photos we've taken this year and pick out highlights for this book. Obviously we're keeping it, but it would totally make a great gift too! We chose the Colorful Everyday Design by Lines Across (we also love her and if you don't follow her on Instagram, you totally should), and it was again, perfect and full of color!
Also, whenever the topic of Christmas cards comes up, does anyone else think of that Friends episode where Monica wants to do a holiday card, and Chandler's like "Hmm, I don't know if we're there yet."? Well, yeah, we definitely had that conversation. hahah!
Also, sorry if you guys are getting tired of our holiday content, but this definitely isn't the last of it. *shrugs*
We'd also love to know if you guys have any favorite holiday traditions that we can add to our list!
xoxo,
Jen & Cort